An Autumn to Remember in Berlin 
Berlin Skyline. Photography by Bleppo
Unlike in its Central European counterparts, the frenzied pace and energy never really let up as the seasons change in Berlin. While the action tends to move indoors in the autumn, Berlin's numerous parks are where you want to be, as the city begins to look like a giant landscape painting, with the incredible hues of the season. This November, Berlin will see the 30th anniversary celebrations of the fall of the once-indestructible Berlin Wall. Our suggestions below reflect this important anniversary and as usual, contain diverse recommendations in the art, cultural and culinary fields
Art and Culture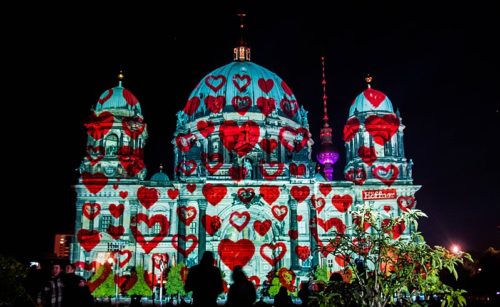 Berlin Festival of Lights 2015. Photograph by poorpeschino
Berlin Festival of Lights – October 11th to 20th, 2019
In the middle of October, the city quite literally lights up for the Festival of Lights, turning its streets into the largest open-air gallery in the world. With site-specific, rather spectacular audio-visual installations at some of the city's most prominent landmarks, this year's festival's theme is "Lights of Freedom", so you can expect some poignant historical displays and projections. Our tip, is to take the "Walk of Light" tour (more details are available on the website), a circuitous path around the inner city that takes you to some of the major landmarks that are part of the festival. With over 100 locations to choose from, the Festival of Lights has much to offer to everyone, making it the perfect choice for some family fun.
Berlin Design Week (BNDNWK) – October 11th to 17th, 2019
Unlike other design weeks in Europe, Berlin Design Week is more of a gathering point for the who's who in German design, than an international trade fair. So if you're more of a casual visitor than an industry expert, BNDNWK is probably your kind of event. With a line-up that includes exhibitions, displays, lectures, projections and workshops held over a week in mid-October, across different venues in the city, we'd suggest you make good use of this opportunity to make yourself aware of what's hot, in one of the creative capitals of the world. Like many other events this year, BNDNWK will celebrate the Bauhaus Centennial by making it the theme for the week.
Days of Jewish Culture – November 7th to 17th, 2019
Launched in 1987, as part of the 750th anniversary of the founding of the city, the Days of Jewish Culture festival is organised by the Jewish community in Berlin – apparently the fastest growing Jewish community in the world. The festival showcases the vibrant and diverse state of Jewish culture in the city and across the world, with numerous theatrical performances, poetry readings, public discussions, art exhibitions, religious services, and concerts by prominent Jewish diaspora, from across the world. This year's program is yet to be announced, but will be available shortly on the website.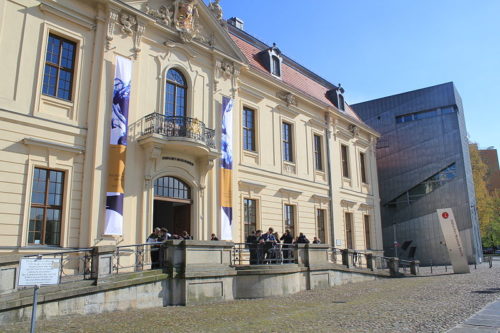 Jewish Museum in Berlin. Photograph by Tanweer Morshed
Insight Cities' In Search of Jewish Berlin Tour provides a rich history of the challenges faced by German Jews during the middle ages and renaissance and an opportunity to appreciate the rich cultural life developed by Berlin's Jewish community in spite of their vulnerable status. The tour also focuses on the main sites of Berlin's the 19th- and 20th-century Jewish history, the districts of Spandauer Vorstadt and Scheunenviertel (known as the 'Barn Quarter') in Berlin-Mitte.
Festivals
Oktoberfest Berlin – September 20th to October 13th, 2019
We'd suggest you avoid the madding, raucous crowds at Munich's more traditional Oktoberfest celebrations and instead settle for Berlin's cheaper, more accessible and yet, equally-fun version. The city gives you three major choices to partake in Bavarian beer and sausage, over three weeks in September and October, and we'd plonk for the official celebrations at the fairgrounds at Kurt-Schumacher-Damm, near Tegel Airport. With a giant Bavarian-style beer tent, live music and thousands of revellers, don't forget your dirndl and lederhosen, as you make a beeline for the wiesn.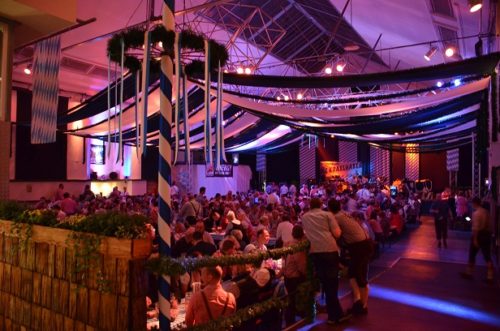 Oktoberfest Celebrations in Berlin. Photograph by Marco Worm
Jazzfest Berlin – October 31st to November 3rd, 2019
Berlin's big-ticket entry to the jazz world, is one of Europe's oldest festivals and easily amongst the continent's most prominent. Established in West Berlin in 1964, by the Berliner Festspiele collective, the festival in its own words, presents "style-defining icons of jazz and young positions from a wide variety of styles, … full of creative border-crossings and collective visions". Focussed on contemporary European jazz, with artistic representation from all over the world, the festival does a great job of connecting music and artistic visions to the pressing issues facing Europe and the world today. Shows normally take place at the Haus der Berliner Festspiele and tend to sell out quickly.
Events
Reunion Day Celebrations – October 3rd, 2019
Over a million Berliners gather around the Reichstag and the Brandenburg Gate each year, in the first week of October, as the city celebrates the reunification of Germany. A three-day festival at the Platz der Republik culminates with a giant Unity Concert on October 3rd, a national holiday. With live music, carnival rides, games and traditional food from Germany's different states, Reunion Day celebrations are another important day in the city's festival calendar. This year's event will be accompanied by a giant street party in the area.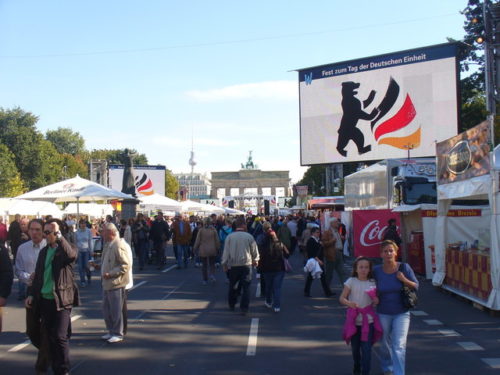 Reunion Day in Berlin, 2012. Photograph by Colin Smith
Berlin Food Week – October 21st to 27th, 2019
In its fifth year, Berlin Food Week is already one of Europe's go-to culinary events. The city's epicurean masters bring out their best tips and tricks as they shed light on all the contemporary trends in global and Berliner food culture. With tastings, tours, talks, food stalls, cooking lessons, degustations and a chance to sample the haute cuisine of Berlin's best chefs, if you're a foodie or not, you want to be at the food week. Do what your guide would do, and skip the crowds on the weekends, with a well-timed midweek visit.
An autumn walk in the city's colossal Tiergarten park, is perhaps our favourite way to spend a Sunday afternoon in Berlin. Begin your walk after a lazy brunch at one of Mitte's numerous hip coffee shops and take in the incredible hues of of the season. Tiergarten is Berlin's premier park and the peace, quiet, solitude and inspiration it provides, to recharge your batteries, can rarely be found elsewhere. Don't forget your camera and keep an eye out for all the incredible sculptures you'll encounter on your path.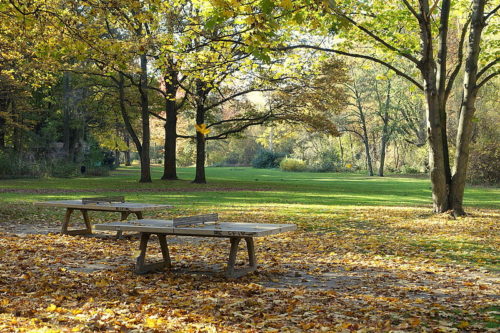 Tiergarten in Autumn. Photograph by daderot
Insight Cities' Berlin: An Introduction Tour provides a broad view of the political and ideological forces that unleashed genocide and global war in the 20th century. Exploring Berlin's iconic landmarks while emphasizing the tumultuous Nazi and Cold War eras, you will learn how in the 1700s tiny Prussia's violent transformation into Europe's dominant military power already set the stage for the great tragedies of recent history.
30th Anniversary Celebrations
Path to Revolution – November 4th to 10th, 2019
A series of events at seven locations spread across the city, Path to Revolution is perhaps the biggest of the city-wide celebrations planned this fall. Kurfürstendamm, the Brandenburg Gate, Schlossplatz, Alexanderplatz, Gethsemane Church, East Side Gallery and the former Stasi headquarters, were key locations in the Peaceful Revolution in 1989 and will host a number of different gatherings. From films, picture projections and exhibitions to sound recordings and  installation, art projects, lectures, public talks and discussions, visitors to Path to Revolution will have a lot to choose from during the week-long celebrations, that culminate in a massive open-air music concert that takes place at multiple venues across the city on November 9th.
Walking through Walls – September 12th to January 19th 2019
The Berlin Wall may have fallen, but in the three decades since, we've succeeded in constructing numerous other walls across the world, both physical and notional. In the age of fake news, where virulent nationalism feeds of populist rhetoric, the exhibition in its own words, serves as an "entry point into critical reflection on the impact of having to live with divisions, both real and metaphorical". Presenting the works of 28 prominent international artists across different mediums including sculpture, fine art, performance art and AV installations, Walking through Walls is perhaps one of the strongest statements the city of Berlin can make in times like these, based on all its troubled experiences.
Article text by Hrishabh Sandilya. All images are sourced under a Creative Commons License and have not been altered in any way.