Spring Vibes in Berlin
 Berlin Panorama. Photograph by Steve Collis
Berlin's story is often told through the stories of its various districts. Come spring, and it is no different, as the city's boroughs celebrate its arrival in their unique ways – a testament to their varied cultural influences and historical backgrounds. Insight Berlin gives you a heads up on what to eat, see and do in Berlin over the next few months, so you get to catch the city at its very best.
Festivals
Zentraler Festplatz at Kurt-Schumacher-Damm – March 29th to April 22nd, 2019
Pure, unadulterated fun for both adults and children is on offer at the annual Spring funfair near Tegel airport. Think rides, roller coasters, Ferris wheels, ring tosses, target shooting and all that you'd expect to see, along with all your favourite German snack food and live music. With firework displays on the weekends, what more could you ask for, as a celebration of Spring?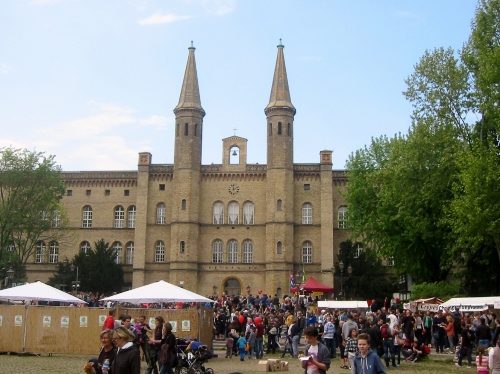 May Day in Kreuzberg. Photograph by Alex1011
Kreuzberg Myfest May Day Celebration – May 1st, 2019
While Berlin's status as a left-wing multicultural mecca for artists, writers and the unemployed is rapidly being challenged by gentrification, Kreuzberg harks back to the hedonistic days of the Nineties each year on Labour Day. Watch Europe's greatest, rather raucous, street celebration unfold in front of you in the streets around Gorlitzer Str and Kotbusser Tor. Not for the faint-hearted, come prepared for some raging techno and, occasionally, police water cannons when the party combines with the anti-Fascist marches.
Carnival of Cultures – June 7th to 10th, 2019
Centred around Pentecost celebrations in early June, Berlin's Carnival of Cultures underlines why the city is the cultural and party capital of Europe. A four-day festival of food, music and dance, with inspiration from the world over, it takes place at the Blucherplatz in Kreuzberg, and culminates in a giant final day street parade that ambles across the borough to neighbouring Neukoln. Come for Brazilian Samba and Caipirinhas, some Angolan Kizomba and Bombo Assada or just some good old Berliner Wurst and Pilsner, and see how the world can be a better place for a few hours (or days) if we learn to love and respect other's cultures. Great for kids and family fun!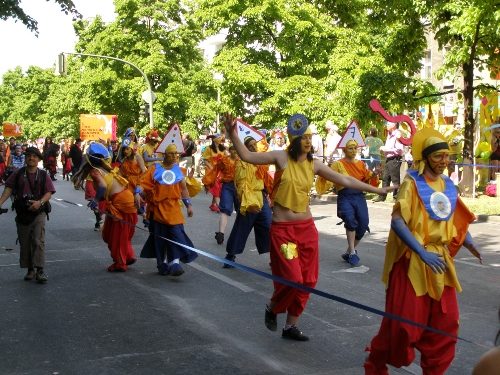 Carnival of Culture. Photograph by Berliner Schildkröte
Art
Henning Wagenbreth's Transitzone at the Kunstbibliothek – April 17th to July 28th, 2019
Berlin native and international renowned graphic artist Henning Wagenbreth brings his signature style of strong colours and reinforced images to the Kunstbibliothek, where he plays with his own take on seminal moments of history that have influenced him. The Transitzone collection is his own take on the past, present and the future and is a must-see at the unique library and museum of graphic design. A show that truly illustrates the modern Berlin artistic aesthetic.
Gallery Weekend Berlin – April 26th to 28th, 2019
With over 20,000 visitors, Gallery Weekend has quickly grown into the city's premier art outing. Focussed on contemporary art, the weekend showcases Berlin's unique ability to stay ahead of the curve, and create and disperse an aesthetic that the rest of the world can only follow. On display will be works from the some of the hottest young artists in town at over 50 galleries spread across the city. The best part of it all is that is completely free.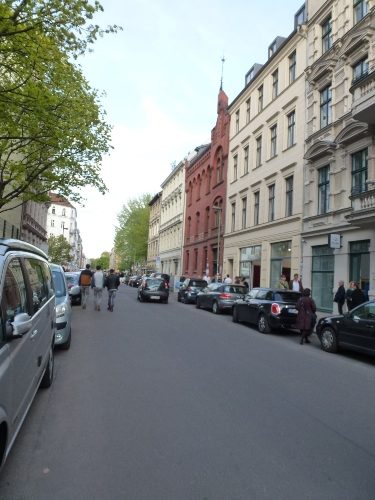 Gallery Weekend in Berlin. Photograph by Fridolin Freudenfett
Markets and Food
Berlin Bratwurst Championship – April 7th, 2019
Here's a fun way to spend a Sunday in early spring. For all you foodies out there, who want a taste of authentic Berlin food culture, the Bratwurst Championship is your chance to stuff your face and have a laugh. Organised to mark the beginning of the barbeque season, butchers from all over the city (and the country) congregate, bringing age-old family recipes and sausages of every shape, feel and taste, to win the coveted prize. Great for kids and some family fun!
Arminiusmarkthalle in Moabit – Open Monday to Saturday
Berlin is a city of market halls, and while there are other more prominent ones, including Kreuzberg's Markthalle X (which we've covered in the past), we've taken a rather recent fancy to Moabit's local. Perhaps it's the fact that Moabit doesn't feel as gentrified and overrun as Mitte, Prezi or Kreuzberg, or the fact that the produce and food on offer are just really great. So, if you're up for some adventure and want to explore a whole new district in the city, Arminiusmarkthalle is the place to start. Great for kids and some family fun!
100 Years of Bauhaus
There are so many events planned around the centennial celebrations of arguably the world's greatest modern design style in Berlin throughout 2019 that we've decided it merits its own section here. Our selection below aims to give you a feel of how much and how far Bauhaus has pervaded popular culture.
Bauhaus Imaginista at the HKW – March 15th to June 10th, 2019
Perhaps the most fascinating story of them all is how Bauhaus transcended national borders and became the go-to modernist style in much of the post-colonial world. This show at our favourite House of World Culture (HKW) presents Bauhaus' many achievements in Asia, Africa and the Americas through the works of some of the biggest names in the field. The show contains rare pieces from private and governmental collections and is a must-see if you're any sort of architecture fan.
Bauhaus and Photography at Museum of Photography – April 11th to August 25th, 2019
The Museum of Photography hosts perhaps Europe's most varied collection dedicated to the photographic arts. It comes as no surprise that they would host something as insightful and grand as a show that seeks to explore the dialogue between contemporary art and the Bauhaus-inspired photographic avant-garde of the 1930s. Based on the work of the legendary Hungarian Bauhaus photographer and artist László Moholy-Nagy and others, the exhibition promises to be amongst the most exciting of the dozens of events on for the centennial.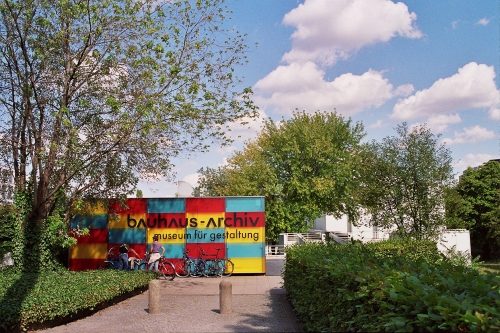 The (old) Bauhaus Archive in Berlin. Photograph by Janine Pohl
Article text by Hrishabh Sandilya. All photographs sourced under a Creative Commons License.