Retelling the Events of the Velvet Revolution
Havel during the Velvet Revolution. Photograph by MD.
Lee Evans is a well-respected guide and historian, who leads a number of tours for Insight Cities. Lee came to Germany on a Congress-Bundestag Youth Exchange Scholarship and almost never looked back. During the fateful year of 1989, Lee was in Berlin when the Wall fell and saw the collapse of Communism first hand, demonstrating on Wenceslas Square during Czechoslovakia's Velvet Revolution in Prague. He earned a Master's Degree in Central European History and also studied Czech history and literature at Charles University in Prague.
Their names were Tomáš and Zdeněk and they were waiting for us as we got off the train from Vienna. Well, not for us technically. Like many young people in Prague, they had an extra room or two, in their flat that they rented to foreign visitors. As westerners in Czechoslovakia in 1989, we were easy to spot, and for $20 per night, they offered us a place to sleep and breakfast. As it turned out, they offered us much more.
By 1989, Czechoslovakia enjoyed a slightly better standard of living than every other country in the  Eastern Bloc and was not plagued by anti-government demonstrations, like in Poland or East Germany. There were sporadic demonstrations in Bratislava and in Prague, but they were not revolutionary in nature and largely ignored by the government. Wary of the dissent in Poland and East Germany, the communists in Czechoslovakia initiated a series of superficial reforms
Confronted with the reforms in the Soviet Union under Mikhail Gorbachev and distracted by the collapse of the Iron Curtain in Hungary, East Germany and Poland, tensions increased in Czechoslovakia, as the spirit of the revolution came face-to-face with an unyielding communist government.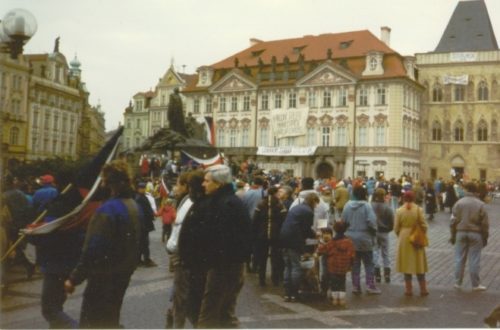 A gathering at the Old Town Square – November 1989. Photograph by pirecetp
On the evening of November 17th, 1989, university students organized a demonstration commemorating the murder of Jan Opletal by the Nazis. The communists tolerated this demonstration as anti-Nazism formed an essential part of their historical narrative. The demonstrators started demanding more reforms and were quickly surrounded by the police. In the ensuing chaos of trapped demonstrators and police truncheons, one student Martin Šmíd was reportedly killed. Although it later turned out that Šmíd was a complete hoax (he never existed), the cat was out of the bag, and the Velvet Revolution had begun.
We'd highly recommend taking Insight Prague's Prague Introduction three hour walking tour which introduces key monuments and familiarizes you with the Prague's 1000 years at the center of European history.
On Sunday, November 19th, my friend Silvia and I decided that this would be an interesting opportunity to visit Prague.  We arrived in the city on Monday evening.
When we met Tomáš and Zdeněk on the platform at Prague main station, like all students, they were on permanent strike. The demonstration that day headed to the Prague Castle and was stopped by the police. The newly founded Občanske Forum or Civic Forum, quickly asserted its moral authority over the revolution and quickly organized dissidents and other cultural figures to coordinate the opposition to the communists.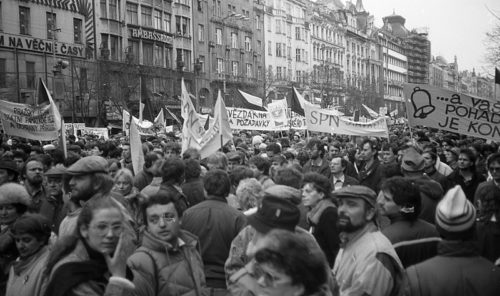 Demonstrations on Wenceslas Square. Photograph by Josef Sramek ml.
That evening we attended the first mass demonstration in Prague; 100,000 people on Wenceslas Square.
The next day, after some sightseeing, our Czech hosts introduced us to some other students and we spent the afternoon painting signs for the demonstrations and mimeographing flyers. Although we didn't speak Czech, we tried to be as helpful as we could, but tragically many of the misspelled signs at the subsequent demonstrations were completely our fault. We bought a huge 15×9 Czechoslovak flag and cut red-white-and-blue ribbons.
That night we demonstrated again.
Afterwards, we descended into Prague's pubs, joyfully discussing politics and philosophy until the early hours. Our group of students identified with the student movements of the United States in the 1960s and Bob Dylan's "The Times They Are a Changin'," became our anthem. For some inexplicable reason, I knew all the words in English and Zdenek, in Czech.  Verse after verse, beer after beer, we celebrated our freedom.
For the next week, this was our ritual: sightseeing in the morning, office work in the afternoon, demonstrations, pub, sleep.  Repeat. The first words we learned in Czech were "Havel na Hrad" (Havel to the Castle), and some odd epithets about Gustáv Husák's mother.
On the 21st, we followed Tomáš and Zdeněk to the factories of ČKD, a manufacturer of locomotives, where they convinced the workers to join the revolution. Since the Communists relied on the working class as their power base, it was essential that they join in the demonstrations.
During the demonstration on  22 November 1989, we heard, surrounded by tearful Czechs, Marta Kubišová sing the banned song  "Prayer for Martha," which she wrote to protest the Soviet invasion of Czechoslovakia in 1968, and the Czechoslovak national anthem from a balcony on Wenceslas Square.
Tomáš and Zdeněk gave us unprecedented access to all of their activities. They spoke English well and translated everything for us. They ensured that we were at the Magic Lantern Theatre after each demonstration. They introduced us to Václav Havel and Alexander Dubček. They were deeply afraid that the Czechoslovak Communists would crack down or that the Soviet Union would crush the revolution just as it had done in 1968. In retrospect, these possibilities now seem improbable, but on the ground in 1989,  they presented an omnipresent threat and fear. Since we were foreign, they ensured that through our access to information and to their leadership, that in the worst case scenario, people on the outside would have a story to tell and we would be able to use our voices abroad in their stead. 
Fall 2019 will see the celebration of the 30th anniversary of the Velvet Revolution, with numerous events planned across the city which we reflect in our suggestions below. In line with this, we'd highly recommend Insight Cities' Cold War Years Totalitarianism tour, to get an understanding of the monumental events that shaped the Velvet Revolution.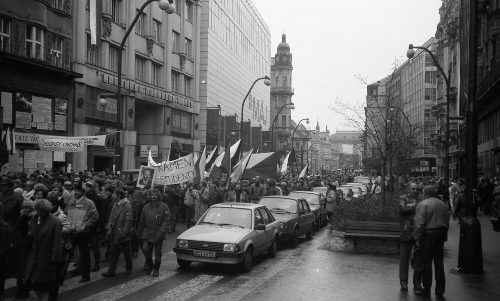 Walking down Narodni Street. Photograph by Josef Sramek ml.
I had never seen a million people together in one place, until November 25th, above Prague on the Letná grounds. Keys played an important symbolic role up to that point, symbolizing both an opening of doors and the suggestion that the communists take their keys and go home. I remember the chant amongst a million jangling keys as "Nashle! Teď Jdi ​​Domů" (bye-bye, now go home). Marta Kubišová sang again and, this time, we knew who she was.
On November 26th, the dissident leader Václav Havel met the Prime Minister Adamec for the first time. Students and the OF decided to drive their point home by calling for a General Strike on November 27th. The day before, we spent some time making flyers.  We distributed these flyers before and during the nightly demonstration. After some time at the pub and some singing, we discovered that we still had about 200 of these flyers and did not want them to go to waste.  
Around midnight we started putting these flyers on cars in the Na Ohradě neighborhood of Prague.  After plastering at least 50 cars with these flyers, an officer of the VB Police took us into custody and put us all in the back of a van. Tomáš managed to talk our way out of this intense amount of trouble, with what he called an "appeal to reason." He said that he told the older officer, that this whole system would come crashing down soon, and that it was time to decide what side they were on. He explained that we were foreign and the state would instinctually propagandize our presence as a foreign agitation. They dropped us off at Masaryk Train Station, where we nicely bought the three policemen a pint at a 24-hour pub. We promised to behave ourselves.
The next day the entire country stopped. For two hours there was nothing. With the political and social order disrupted, the opposition proved that they were in charge and that the political discourse was theirs.
Two days later the Communist Party voted to eliminate the "leading role of the party,"  essentially voting themselves out of existence. On December 29, Vacláv Havel became President.
Not a shot had been fired.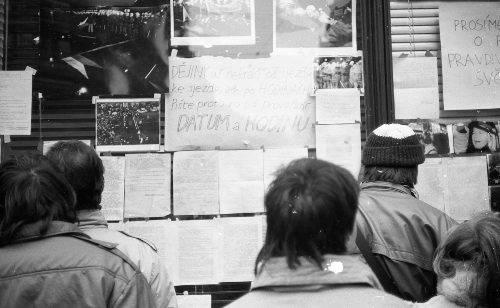 Flyers of the Revolution. Photograph by Josef Sramek ml.
The Czechs and Slovaks experienced a turbulent transition. The most notable effect of this revolution was the re-emergence of Slovak nationalism and a growing mistrust of the union of both nations. Although a majority of Czechs and Slovaks believed in the continuing federation of their countries, an autocratic Vladimír Mečiar and his Movement for a Democratic Slovakia forced the Czechs to concede a split.
On January 1, 1993, Czechoslovakia split into the Czech Republic and Slovakia without ever consulting the public or holding a referendum. 
Since the split, both countries pursued a path of privatization and democratization. The societies opened and although the course was difficult, both countries entered the 21st century with relatively strong economies and more or less stable democracies. In the split is appears that Slovakia fared much better than anyone anticipated, and Prague seems a little less exotic than it did before.
The city will be holding a number of commemorative events for the Velvet Revolution, which are being organised under the Festival Svobody banner. You can also review Insight City's Prague Fall 2019 guide for further suggestions.

Article text by Lee Evans.
All photographs sourced under a Creative Commons License.