Prague: A Winter Wonderland
Prague in the Winter. Photograph by josefstuefer
When the long winter hits home, things quieten down in Prague, as its denizens make use of the shorter days and longer nights, to reflect on the days gone by in the city's numerous and cozy subterranean bars. The snowy streets though tell a different story, as the footsteps of millions of visitors and locals alike, trace a path to the Christmas markets that you'll find on every other square in the city. Insight Cities' curated list of what to do in a Prague winter, gives you the best of both quieter and more fun suggestions, for the next few months.
Christmas and New Year Fun
Insight Cities' Prague: An Introduction Tour makes the perfect Christmas gift for a loved visiting the city or the perfect Christmas gift for yourself. The three hour Prague walking tour introduces key monuments and familiarizes you with the Prague's 1000 years at the center of European history.
The Advent Market at Namesti Miru – November 20th to December 24th. 2019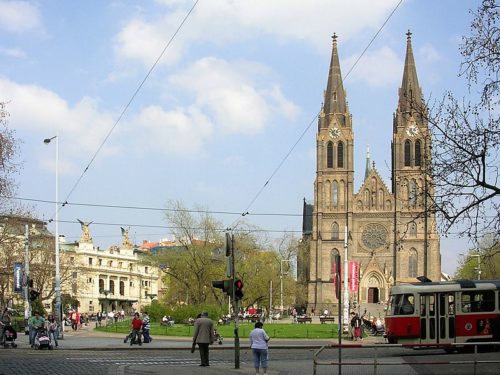 Namesti Miru. Photograph by SJu
Not quite as spectacular as its Austrian or German counterparts, Christmas markets in Prague are a relatively recent phenomenon. Yet, they do their job just fine and spread that yuletide cheer in dark December. We prefer the less touristy option at Namesti Miru in Prague's favourite residential district, Vinohrady. Set against the stunning backdrop of the Church of St. Ludmila, use this opportunity to get hold of some traditional Czech handicrafts and Christmas cookies, taking it in with copious amounts of mulled wine.
Mikulas on the Old Town Square – December 5th, 2019
Spend your evening on the Old Town Square watching the uniquely Czech tradition of Mikulas (St. Nicholas), as locals dress up as angels, devils and saints and punish and reward young children for their sins and good behaviour over the year. The children have to recite a poem and are usually rewarded for their good behaviour with Christmas candy and cookies by Mikulas and the angels. Occasionally a naughty child is tossed into a devil's sack and taken away as punishment for bad behaviour in the year.
Ice Skating – December 2019 to March 2020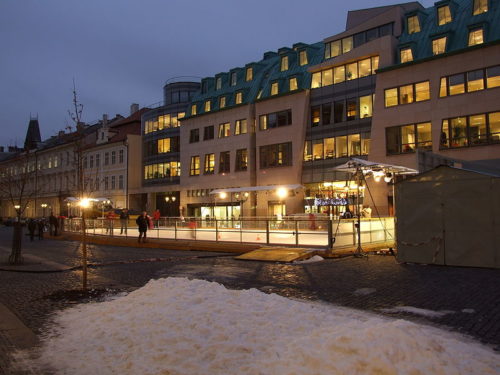 The Old Town Skating Rink. Photograph by Aktron
Nothing quite says a Prague winter as the pop-up ice rinks that quite literally pop-up all over the city. Like any good old socialist tradition, the use of the rink itself is free, if you use the ones put up by the city council and you pay to rent skates, if you don't have your own. Open from 10 A.M. to 10 P.M. our advice is to skip weekends and evenings, and make the rink your very own when all the local kids are at school. Try the rink behind the Old Town Square at Ovocny Trh if you want a quick fix, or head to the larger rink at Letna Park, if you take your skating as seriously as most Czechs.
New Year's Eve Celebrations – December 31st, 2019
Here's a pro tip. If you are in Prague for New Year's Eve, find a friend with a rooftop apartment and a view of the city skyline. If you can't manage that, then make a beeline for one of the city's rooftop hotel bars. And, if you can't manage that, then brave the crowds for the raucous celebrations across the city. We don't quite recommend you stand on Charles Bridge or risk the icy walk to the top of Petrin Hill to watch the fireworks, but then again if you insist, you won't go wrong with these two. Come stocked with champagne and remember to empty your bladder, before you get in the middle of the crowd.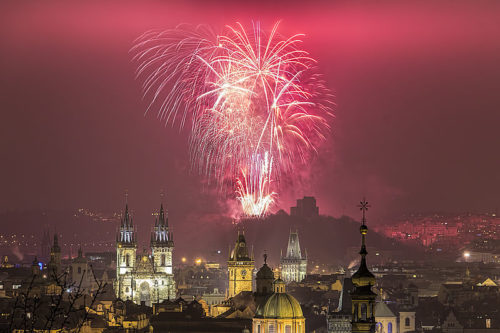 New Year's Fireworks over Prague. Photograph by Jan Fidler
Art and Design
Czech Design Week – December 11th to 15th, 2019
Czech Design Week is the showcase event for Prague's independent designers and creatives. Aimed at fostering a dialogue between young Czech designers and artists and their international collaborators, the project aims to connect the public with experts in the fields of art and design, and and make use of public space. Tickets which are a very reasonable CZK 150, are available online, and the event comes highly recommended.
If you're interested in modernist art, we'd highly recommend taking Insight Cities' Prague Avant-Garde: Painting, Photography, Applied Arts Tour which can be customised to visit different museums and galleries, so as to present the different facets of this unique era in Czech art.
Mouvo Festival 2020 – February 21st and 22nd, 2019
Mouvo markets itself as the region's leading motion design and visual communication festival. The festival in its own words showcases "the world's leading creators who are rocking the world of graphic design, animation, video and new technologies". In its fifth year, it has attracted rave reviews from the world's press and is a hotbed gathering for Europe's hotshot creatives. If you're an average Joe visitor, aim at attending some of the free workshops and performances on offer.
Fine Dining
Grand Restaurant Festival – January 15th to February 28th, 2019
Prague's grandest restaurant festival is back after a two-year long hiatus. Put on by gourmet and food critic Pavel Maurer, the festival attempts to take haute cuisine to the people and showcases the city's growing culinary genius. Expect to see Prague's finest restaurants and chefs offering special cut-price festival degustation menus, including those from the city's Michelin starred eateries – Alcron, Field and La Degustation Boheme. Be warned, bookings open online on December 1st, and places will disappear in seconds. 
Culture
Turandot at the National Theatre – January 23rd and 25th, February 6th and March 2nd and 13th, 2019
Giacomo Puccini's magnum opus Turandot premieres at the National Theatre in Prague in January. Puccini who is often acknowledged as Verdi's true heir, wrote the opera between 1921 and 1924, eschewing much of the tradition associated with Verdi and instead infusing it with bold new styles. Based on the Persian epic Haft Peykar written by poet Nizami, Turandot tells the story of Prince Calaf, who falls in love with Princess Turandot and is set in Imperial China.
One World International Human Rights Documentary Film Festival – March 5th to 14th, 2019
Each year One World cements the Czech Republic's reputation as a shining light in the democratic morass that the post-Communist nations of Central and Eastern Europe, seem to have found themselves in. Showcasing the most important documentary films of the year, the festival attracts some of the biggest names on the doc and human rights circuits, and is put on by People in Need – Czechia's largest international NGO.
 Article text by Hrishabh Sandilya. All images are sourced under a Creative Commons License and have not been altered in any way.