An Epic Berlin Summer
Berlin's Summer Skyline. Photograph by A.Savin
Nothing is quite epic as a full Berlin summer. What the city lacks in historical edifices, it makes up with an uber sense of modernity, which is manifested in its design ethos, artistic sensibilities and music tastes. Insight Berlin's list of what's hot and what's not, this summer in Berlin, puts you on the right track, in everyone's favourite European capital city.
Food and Drink
Street Food auf Achse – Open Sundays from 12 to 6 P.M.
If you're tired of the city's overcrowded and rapidly-gentrifying market halls, look no further than Street Food auf Achse. Despite its tony Prenzlauer Berg location, inside the Kulturbrauerei, this is hands down, the city's best street food show. With refreshingly different twists on dozens of international cuisines, presented by both amateur and professional chefs, ranging from grandmothers to the occasional Michelin-star awardee, you can't go wrong here.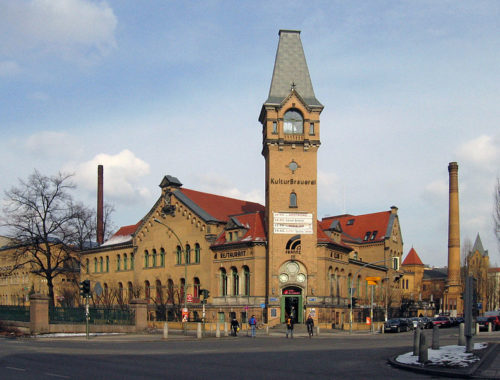 The Kulturbrauerei. Photograph by Kaspar Metz
A visit to Street Food auf Achse, is perhaps the best way to finish Insight Berlin's City of Shadows tour, which provides a fascinating introduction into life in East Berlin, and the history of its various districts.
African Food Festival – August 31st and September 1st, 2019
The African Food Festival is a rager. If you're looking for your fill of injera, yam and shitto, tagines and countless other exotic African foods, this is where you should focus your attention. Join the city's various African communities, as they come out for a weekend in the sun, with food, alcohol, great music, dance and lots of love to share. It takes place at the intriguing Wilhelmian industrial complex, the Malzfabrik Schöneberg, this year.
Culture
Berlin Fashion Week – July 1st to 6th, 2019
Not quite Milan or Paris when it comes to the high-stakes of luxury fashion, Berlin has made its name focussing on other things fashionable. This summer's BFW focuses on sustainable fashion and the confluence of fashion and technology. Catch some of Germany's finest, young and creative designers in action, as they try and make what we wear, less harmful. We'd suggest trying to get to the Brandenburg Gate, where you can find all the action on the catwalk, at the Mercedes Benz Fashion Week.
Long Night of the Museums – August 31st, 2019
In its 21st year, the Long Night of the Museums, gives you a chance to take in as many of Berlin's museums as you can, for a night. With over 800 events on offer, at 80 different museums, and a shuttle bus that lets you conveniently hop around the city till 2 A.M, this is Berlin at its best. Other cities may have aped its style, but we'll have you know, that it was in Berlin, where the idea first emanated. The event is put together by the museums and the city's cultural department, Kulturprojekte Berlin.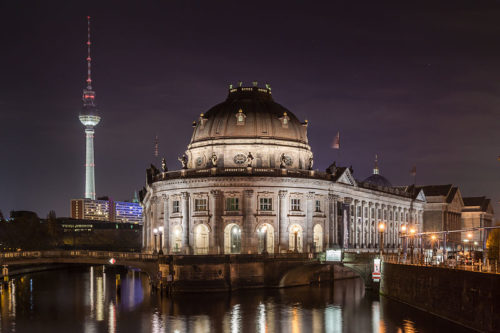 Bode Museum by Night. Photograph by Mathias Krumbholz
Bauhaus Week Berlin – August 31st to September 8th, 2019
2019 promised to be one long Bauhaus party, and Berlin has been the most gracious of hosts, celebrating the centennial with dozens of events, shows and lectures. The Bauhaus Week in the summer kicks of with the Long Night of Museums and ends with the Open House of Berlin Monuments, a week later. The aim is to "bring Bauhaus ideas to life in a participatory fashion, across different outdoor venues", in the organiser's words. It gives visitors a chance to spend the day in typical Bauhaus fashion, with options ranging from yoga on a modernist rooftop, "combining exercise with architectural observation", to specially crafted Bauhaus lunch menus.
Open Day of Monuments – September 8th, 2019
Capping a week of art and inspiration this year, Tag des offenen Denkmals is a nationwide celebration of Germany's cultural history. Hundreds of edifices – buildings, monuments, galleries and even the occasional nightclub, are thrown open to the public in Berlin, and across Germany, making this the cultural event of the year. With guided tours, a chance to see exhibits that are not normally accessible and lectures and discussions with architects, archaeologists and craftsmen, this is one day, you don't want to miss in Berlin.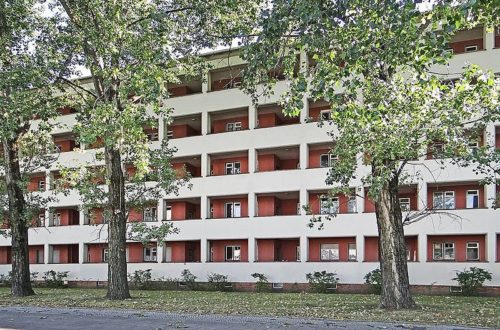 Bauhaus in Berlin. Photograph by  Jean-Pierre Dalbera
Insight Berlin can customize an in-depth tour of any museum or location in the city, with our network of scholars and art historians, so get in touch, and let us make this the perfect Berlin vacation for you.
Art
48 Stunden Neukolln – June 14th to 16th, 2019
Berlin's hippest district Neukolln (move over Kreuzberg), celebrates its fascination for the arts, with the rather quirky and imaginative "48 Hours Neukolln" art festival. As the moniker indicates, it is 48 action-packed hours of artistic endeavours. From street art to murals, conferences, markets and parties, this bottom up, citizen-led initiative, really shows how much culture means to the Berliner identity. Unmissable, with options for the whole family!
Performance at 48 Stunden Neukölln. Photograph by Christiane Schröder
Berlin Art Week – September 11th to 15th,  2019
Berlin Art Week brings to an end a power-packed cultural fortnight, in the first week of September 2019. Only in its seventh year, Berlin Art Week has quickly become one of city's premier cultural gatherings. It showcases contemporary art from the world over, with paintings, installations, projects and even film screenings, at over 50 different galleries and museums, ranging from temporary pop-ups to the venerable institutions, that have shaped the city.
A visit to Berlin Art Week, makes the perfect segue into Insight Berlin's Hamburger Bahnhof tour, which showcases the unparallelled acquisitions of classical, early modern, 19th century and contemporary art, at Berlin's most impressive museum.
Festivals
Fete de la Musique – June 21st, 2019
The European Festival of Music, on World Music Day, takes on a particular Berlin flavour,  on the day of the summer solstice this year. The streets are quite literally filled with the sounds of music, as Berliners and musicians, of all genres, ages, shapes and sizes, take to the streets and have a ball. The festival is a refreshing change from all the free techno that abounds the city, with its focus on live instrumental music. We recommend the flashmob singalong that will take place in front of the concert hall at Gendarmenmarkt at 7 P.M.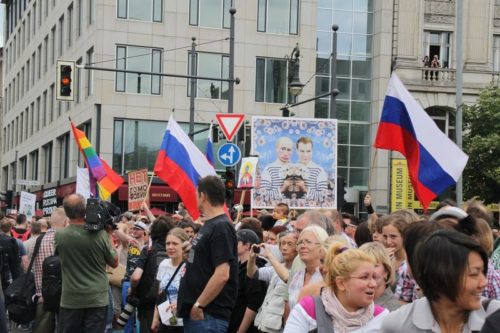 Berlin Pride/CSD 2012. Photograph by linksfraktion
Berlin Pride / Christopher Street Day Parade – July 27th, 2019
Berlin Pride or the Christopher Street Day Parade, as it is colloquially known, gathers close to a million people on the streets in support of equal rights and self-determination. The show makes it way across the city from Kurfürstendamm to the proverbial city gates, Brandenburger Tor, as people walk, dance and drink, in support of the hundreds of floats that make up the parade. The street party begins at noon and officially ends at midnight, before it distills into the streets around Brandenburger Tor. Bring your dancing shoes and remember to stay hydrated.
Pop Kultur – August 21st to 23rd, 2019
Pop Kultur is an interdisciplinary festival of the arts and music, which gives visitors a chance to see some of the biggest and most creative names in the fields,  as well as a peak into what goes on behind the scenes. The festival is made up of three components: Live – with music, lectures, exhibitions and discussions, Talent – where the top talent in the fields come together, and Network – a conference for those in the creative industries; and it provides unique insight into how the cultural industry in Berlin operates. It takes place at the Kulturbrauerei in Prenzlauer Berg, and tickets will sell out well in advance.
Atonal – August 28th to September 1st, 2019
Atonal underlines why Berlin continues to be at the cutting edge of modern culture. A festival dedicated to the sonic and visual arts, it brings together a variety of progressive and electronic musicians and visual artists. What you get are unique, site-specific audio-visual displays, designed for the show and never repeated, created by some of the biggest names in the business. Atonal takes place at the massive, industrial Kraftwerk complex (a former power station, worth a visit by itself) and is well worth the pricey 150 Euro ticket.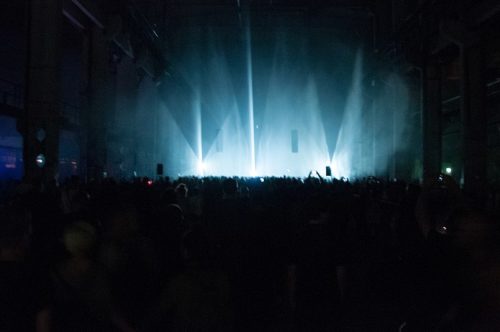 Atonal 2015. Photograph by Mitch Altman
Family Fun
Kinderbauernhöfe at Gorlitzer Park and Pankow – Open daily
Kinderbauernhöfe are Berlin speak for the small urban farmyards that double as petting zoos and activity centres for kids in the summer. Our favourite, is the one at Kreuzberg's Gorlitzer Park, which has ample playing space for kids and loads of fun activities to partake in. Make a visit a family fun day, with a roast chicken street food lunch, at the famous Huhnerhaus 36, located at the edge of the park.
Article text by Hrishabh Sandilya. All photographs sourced under a Creative Commons License.