An Imperial Viennese Summer
 Vienna Panorama. Photograph by tribb
Few cities can rival Vienna when it is decked out in its imperial summer glory. With thousands of kilometres of bike paths, dozens of verdant parks, hundreds of daily cultural offerings, an incredibly array of food and loads of great beer, Vienna makes for the ideal summer city break. Insight Vienna has a few tips below, which should allow you to maximize your experience in the city and minimize the time you'd waste choosing from all the goodness on offer.
Urban Escapes
Natural History Museum, the View from the Roof – Friday, Saturday and Sunday afternoons
A trip into the heart of one of the world's best curated natural history museums, this historical walk goes through the exhibits on the lower floors, before culminating in a grand finale on the museum's rooftop terrace. Offering unparalleled views of Habsburgian Vienna and deep insight into the making of the city, we can't think of a better way to spend a weekend afternoon.
Open House Vienna – September 14th and 15th, 2019
Hosted annually at the end of the summer, Open House Vienna brings the spectacularly successful global movement to a city, whose architecture is unparallelled and affords you the opportunity to see its effortless blend of tradition and modernity, for free. Hundreds of buildings (private and public) open their doors on a September weekend, with residents and volunteers doing their best to explain the intricate history behind each, making this the best city introduction you could ever get (after our Insight Vienna offerings).
Secret MQ Tour – Every Saturday afternoon
The Secret MQ tour, promises a fascinating introduction into the creation of the one of the world's greatest cultural districts, built into the heart of the city. It explains how the former Habsburgian imperial stables were eventually converted into the present day MuseumsQuartier – a cultural district, like no other. One which effortlessly marries art with pleasure, classicism with modernism and imperial grandeur with small urban cultural initiatives. We'd recommend this tour as a follow-up to Insight Vienna's fantastic introduction into the city's modern evolution, Vienna Modernism: Cosmopolitanism and the Age of Nervousness. It really sets the tone for the perfect Vienna visit.
Insight Vienna can customize an in-depth tour of any museum or location in the city, with our network of scholars and art historians, so get in touch and let us make this the perfect Vienna vacation for you.
Festivals
International Music Festival – May 11th to July 1st, 2019
Put on by the famous Wiener Kozerthaus, the International Music Festival is in its 39th year and brings some of the biggest names in jazz, piano, classical, world, folk and contemporary music to the city. With multiple concerts every day, we'd recommend taking Insight Vienna's odyssey into Vienna's music traditions –  The Habsburgs: Patrons of Music from Baroque to Classic first, and following it up with one of the concerts on offer at the musikfest.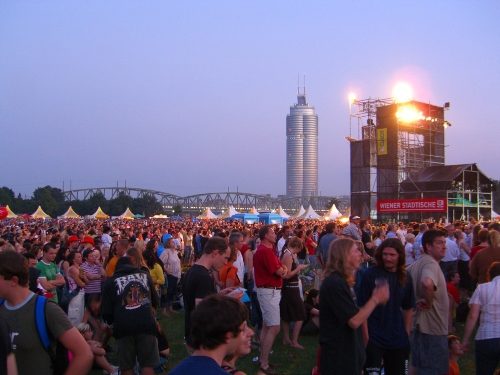 Donauinselfest. Photograph by Philipp Naderer
Donauinselfest – June 21st to 23rd, 2019
The Danube Island Festival (or Donauinstelfest) is the Europe's largest free open-air festival and really illustrates the Austrian capital's commitment to ensuring cultural access for all. Spread out over three days around the summer solstice, in the midst of a island on the Danube, you'll have a chance to listen to scores of bands and DJs on a multitude of stages across the island. With hundreds of food and drink options, we can't think of a better way to kick of the summer, for the entire family.
Jazz Fest Wien – June 24th to July 10th, 2019
In its 19th year, the Vienna Jazz Festival has fast tracked itself into international prominence, making itself the preferred stop for some of the biggest names in the business. This year will be no different, with Gilberto Gil, Omara Portuondo and Bobby McFerrin, gracing the city, with their tunes. Held at different venues across the city, over the end of June and early July, tickets are available online and will sell out fast.
Food and Drink
Schweizerhaus – March to October, 2019
The Schweizerhaus is as old a Viennese outdoor tradition as you can find one. The cavernous beer garden is open from March to October and despite the hundreds of seats, is almost always full. Built into the heart Prater Park in Leopoldstadt, with the best Pilsner and Wiener Schnitzel you'll find in the city, there's probably no better place to spend a hot summer evening than at the Schweizerhaus.
Summer Stage – May to September, 2019
Looking for drinks, DJs and some great vibes on a summer night in Vienna? Then Summer Stage is probably your best bet. Think dozens of bustling pop-up bars and bistros built along the embankments of a Danubian canal, with free concerts, shows, art pop-ups and even a sculpture park, Summer Stage is where you go to see Vienna's young, hip crowd in action, and it has a different vibe and feel, each year. Get the metro to U4 Rossauer Lände and walk along the water.
Shows
Rathausplatz Food and Film – June 29th to September 1st, 2019
Every summer the square in front of Vienna City Hall, converts into a giant open-air cinema. While not technically a film festival, the festival screens operas, jazz concerts, dance recitals and many things in-between. Kick back under the stars, with a cocktail and some of the incredible gourmet food on offer, and make it a night to remember. Admission is free, but come early to grab a seat, especially on weekends.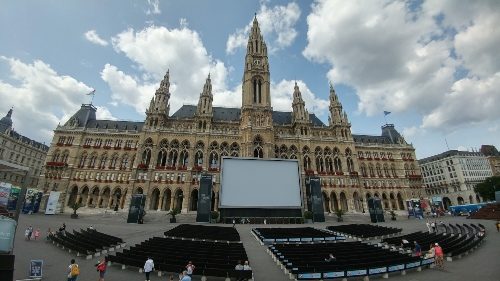 Rathausplatz Film Festival. Photograph by Ahmed.magdy.88
Spanish Riding School – Piber meets Vienna – Six days a week in July 2019
Every summer, the city's famed Spanish Riding School gives its famed stallions a break and puts on a show with the young foal from the Lippzaner Stud Piber, as it trains its next generation of stars. The show is ideal for families and young children and you get a chance to watch the playful young horses and their mothers have a summer blast. Insight Vienna's tour for families with children, Tales of Dragons and Saints: Vienna for Children, makes the perfect starting point before a visit to the Spanish Riding School.
Article text by Hrishabh Sandilya. All photographs sourced under a Creative Commons License.