A Winter Agenda for Prague
Prague in the winter. Photograph by karelj.
That Prague in the summer is at its glorious best is hard to argue with. Yet, as visitors often find out, there is much more to do in Prague in the winter, because in being forced indoors, many of the city's hidden gems come alive. Keeping with 2018's big theme – the centenary celebrations of the first Czechoslovak state, many of the events on offer in the winter, provide visitors an incredible glimpse into life in the Czech Republic over the years and come highly recommended.
Exhibitions
Memories of the Nation – October 1st to December 9th, 2018
Located in the fallout shelter at the base of the Metronome (formerly the Stalin monument) on Letna Hill, the exhibition was created as part of the Czechoslovak centenary celebrations and is an audio-visual tribute to the key moments in Czech history.
František Kupka: A Legionnaire and a Patriot – October 6th, 2018 to January 27th, 2019
The Museum Kampa puts on a show dedicated to Czech legend Frantisek Kupka and a previously unrepresented facet of his work – his role in the creation of a "new visual style" for the Czechoslovak Republic.  On display will be his designs of flags, banners, medals and other motifs, he created in 1918 for the new country.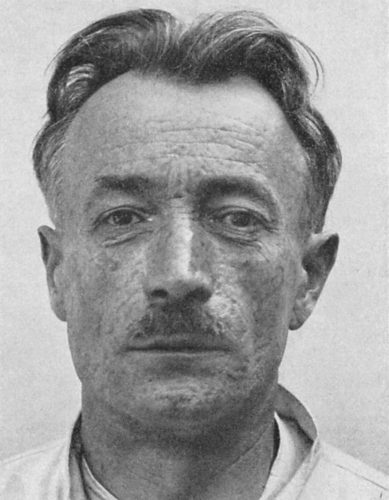 Frantisek Kupka. Photograph from Umění . sborník pro českou výtvarnou práci, volume V/1930, issue 1, page 45. Publisher Jan Štenc : Praha
Czech Innovation Expo – November 1st to November 27th, 2018
The Czech Centres are showcasing a century of Czech contributions to science, innovation, research and design at the Gallery of the Czech Centres in downtown Prague. From the big brands in history, to the young guns of the Czech innovation ecosystem today – if technology is your thing, this is a great show for some family fun.
100 Years of the Koruna – February 1st to April 28th, 2019
An exhibition dedicated to the humble Czech crown put on by the Czech National Bank at Prague Castle. For history buffs and family fun, visitors will have a chance to view some of the original motifs created for printing banknotes by legendary artist Alfons Mucha, and see coins, notes and lots of gold.
Family Fun
Manifesto Winter Market – November 22nd to December 23rd, 2018
Part cultural market and part foodie heaven, Manifesto is a delight for the senses. A pop-up housed in the back of Prague's Masaryk train station, it offers you a chance to sample some of Prague's cutting-edge gastronomy under one roof, and takes on a different look and feel each season. Electronic payments only, so don't forget a credit card or two!
Playful Christmas – November 24th, 2018 to January 2nd, 2019
The Bethlehem Chapel puts on a special exhibition for children this year, dedicated to the fun aspects of Christmas. On display, will be explanations of historical traditions, toys, construction sets and nativity scenes through the ages.
Ice Skating in the Old Town – December 5th, 2018 to January 31st, 2019
Always a fun wintertime activity, don't forget to hit the specially created ice rink on Ovocny trh street behind the Na Prikope mall and the Estates Theatre. Use of the rink itself is free, but you pay to rent skates if you don't have them. Watch out for the crowds as it gets closer to the holidays.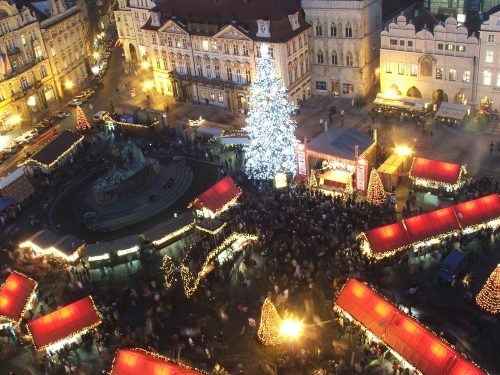 Old Town Square Christmas Market. Photograph by Hynek Moravec.
Christmas Markets – December 1st, 2018 to January 6th, 2019
No visit to Prague in the winter is complete without setting foot in one of its exquisite Christmas markets. With the hot wine and hot chocolate flowing, and loads of activities and shopping for people of all ages, dig in to the typical Czech street food on offer. Our advice would be to skip the madding crowds at the Old Town Square, and visit the far more local and authentic markets at Namesti Miru or Karlin's main square.
New Year's Day Fireworks – January 1st, 2019
Prague's traditional New Year's Day fireworks at 6pm many not be around much longer if environmental campaigners have their way. So use your opportunity while it lasts. The display is best seen from the bridges on the river and any high vantage point with a view of Letna Hill.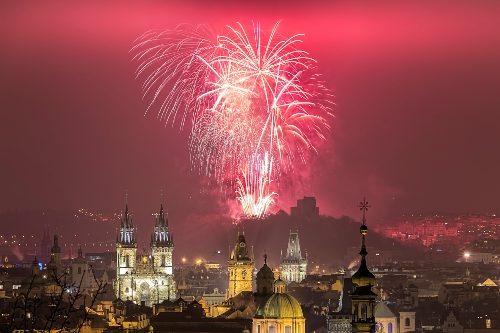 New Year's fireworks over the Prague skyline. Photograph by Jan Fidler.
Entertainment
Buddy Guy at Lucerna – November 8th, 2018
Living Blues legend, guitarist Buddy Guy hits Prague in November for a solo show. A Chicago Blues style musician, Guy has won several Grammies, and has inspired dozens of other legends. He makes a stop in Prague on his short European tour, playing the magnificent Lucerna Grand Hall.
The Nutcracker, Ballet at the National Theatre – December 2018 to January 2019
Prague's favourite ballet – Tchaikovsky's Christmas tale returns in December to the National Theatre. A must-see for people of all ages, tickets are very reasonably priced, but sell out quickly, so buy them online in advance.
Johnny Spielt Auf, Opera at the National Theatre – January and March 2019
A premiere at the National Theatre in the 2018/19 season, Johnny spielt auf is an opera written by Austro-Hungarian writer Ernst Krenek sung in German with English and Czech subtitles. A tragicomedy it returns to Prague for the first time in 80 years. Tickets are available online.
Festivals
Magnetic Festival – December 14th, 2018
Big name techno and trance musicians highlight this year's Magnetic festival including the legendary Tiesto. Billed as the largest indoor dance event in Central Europe, this is your chance to dance your blues away.
Grand Restaurant Festival – January 15th to February 28th, 2019
Pavel Maurer's Grand Restaurant Festival will be back in its 10th year in 2019. Allowing visitors to sit down for exquisite multi-course meals at some of Prague's best restaurants (including a couple of Michelin-starred ones) at reasonable prices, reservations fill up early.  Bookings open in December 2018.
Masopust – Early March 2019
Prague's version of the Mardi Gras, this traditional Christian celebration turned raucous party, takes place 40 days before Easter. A number of festivities occur across the city in the days preceding Ash Wednesday, with the highlight being the parade in Zizkov at the Jiriho z Podebrad Square.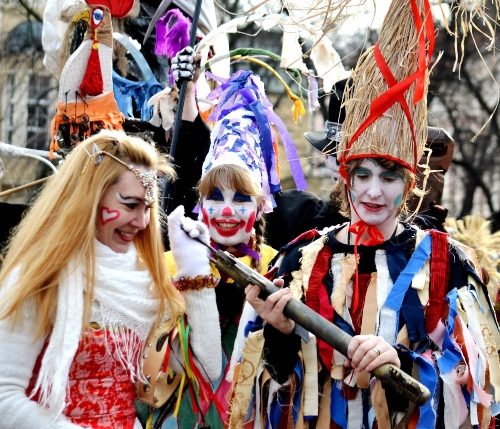 Characters from a Masopust celebration in Prague. Photograph by David Sedlecky.
One World Film Festival – March 6th to 17th, 2019
The largest documentary festival in the CEE region returns to Prague at the fag end of the winter. Focussing on issues related to human rights, freedom, democracy and the media, Jeden Svet is a mainstay in the documentary world, and brings in some of the biggest names in the business. Tickets sell out early, so reserve online in advance.
Article text by Hrishabh Sandilya. All photographs sourced under a Creative Commons License.