A Viennese Winter Delight
Trams at the Volkstheater. Photograph by Andrew Nash
The Imperial City is arguably Europe's most cultured capital. Summer in Vienna is an exalted affair, with the sounds of Mozart and Beethoven playing in courtyards across the city, seemingly egging on the teeming millions who come to pay tribute to the city that once stood at the heart of the Austro-Hungarian Empire. But in winter, when the flow of visitors ebbs, the city metamorphoses into a different type of delight. The snow reflects off the facades of its magnificent Habsburgian edifices, and its denizens tune in to the melodic sounds of Christmas markets and grand aristocratic balls. Insight Cities gives you a chance to sample all this and more this winter, with our curated list of activities for Vienna.
Artistic Endeavours
Spitzmaus Mummy in a Coffin and other Treasures – November 6th, 2018 to April 28th, 2019
Filmmaker Wes Anderson and his writer wife Juman Malouf were invited by the Kunsthistoriches Museum to curate a selection from the four million pieces (from across five different millennia) that the museum possesses. The show is unique. Anderson's creative genius tempered with Malouf's ability to weave a story, to make this one for the ages.
Winter at the Museums Quarter (MQ) – November 8th to December 23rd, 2018
Vienna's impressive MQ puts on their annual winter display to rival the sometimes kitschy, traditional advent markets, through November and December. The MQ's take, is a modern interpretation, with open-air art exhibitions, lighting displays and video mapping. With free entry, multiple-bars, live concerts and some great street food (both Viennese and international), this makes for a great family visit.
The House of Austrian History – Opens November 10th, 2018
Austria's first and only museum of contemporary history opens in mid-November with a massive party and free entry for the first three days. Created to tell the story of the democratic Austrian republic in its centennial year, the museum focuses on "social change and political fault lines", and offers a space to discuss Austria and open up new perspectives, in its own words.
Entertainment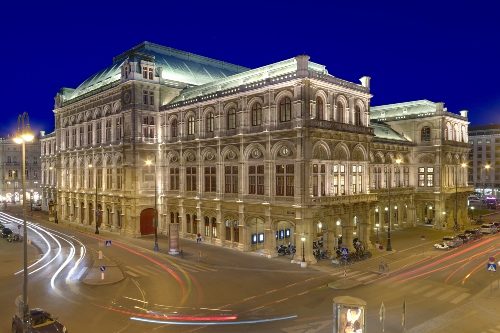 The State Opera House. Photograph by Thcipriani.
Wien Modern – November 2018
Austria's largest contemporary music festival returns for its 31st year, this month. Showcasing the best modern musicians from all over Europe, this year's festival proffers 80 premieres and over 30 different ensembles. The artistic focus is a "series of encounters with unplayable masterpieces." Not to be missed, tickets for most shows are available online.
Die Weiden at the State Opera House – December 2018
Written by prodigal contemporary Austrian composer Johannes Maria Staud, Die Weiden will be the State Opera's world premiere for the 2018/2019 season. A dark tale of the political changes in today's Europe, told through the eyes of two young lovers, the Opera promises a fascinating change from the classics. With only five shows in December, tickets will sell out early at the world's best opera house.
The TU Ball – January 31st, 2019
Balls represented the highpoints of entertainment for the aristocracy during the Industrial Revolution in Vienna. Today that tradition continues, and no city has more balls and dancers anywhere in the world. Start practicing your waltzing skills today, and join the students of the Technical University for their annual ball at the imperial Hofburg Palace. The crowd is younger, less staid and will probably not frown if you break out into the occasional polka.
Family Fun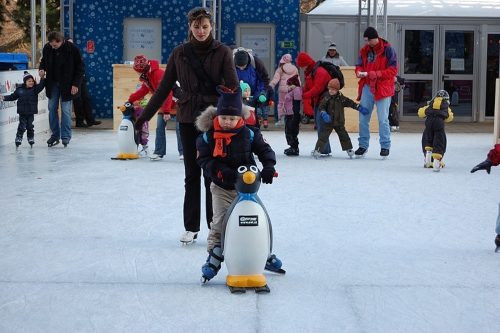 Wiener Eistraum. Photograph by Cha gia Jose
Wiener Eistraum – January 25th to March 12th, 2019
Vienna's Ice Dream is Europe's largest man made ice construction. Covering an area of over 80,000 square feet, spread over ice-skating rinks, curling lanes and special areas for children, this is Vienna's way of fighting Seasonal Affective Disorder. Located at the Rathauzplatz, it's hard to miss, and hard to resist.
The Marionette Theater at Schonbrunn Palace – Opens daily at 11 A.M.
The Marionette Theater at Schonbrunn Palace is our must-see activity for children in Vienna. Its puppets are simply exquisite, and its operatic renditions of Mozart's Magic Flute, Straus's Fledermaus and even classics like Hansel and Gretel and Aladdin are unparalleled. Think Hapsburgian Disneyland, and you'll understand why you'll want to bring your kids here. It gets busy on the weekends and holidays, so you'll want to arrive with plenty of time ahead of you.
Food and Drink
Naschmarkt – Open Monday to Friday for food and produce, and Saturday for the flea market
Historic, gargantuan and always worth a visit, the Naschmarkt dates back a full five hundred years and is Vienna's premier market, stretching a half-mile across the city. With stalls hawking fresh produce from all over Europe, wines, meats and cheeses from Austria's alpine regions, and dozens of traditional and ethnic restaurants, the Naschmarkt should be your first culinary stop in the city. On Saturday, the Naschmarkt becomes Europe's largest flea market, with DJs and pop-up bars, as young Viennese hipsters and fashionistas gather for their weekly doses of recycled retail therapy.
Karmelitermarkt – Open Monday to Saturday
While Karmelitermarkt hasn't quite gone through its own gentrified urban renewal like Naschmarkt has, it still merits a visit, and is a microcosm of the multi-ethnic neighbourhood it lies in. Watch Serbs, Turks and Hasidic Jews jostle for space and your attention, and don't forget to get your fill of the best burek, cevapi, lahmacun and even Ashkenazi specialities like matzo ball soup in town. The streets around the market contain some of Vienna's cutting-edge culinary establishments, so plan that into your visit.
Christmas and New Year
Edelstoff Design Market Christmas Edition – December 8th and 9th, 2018
Two young Austrians brought back a design sensibility from London and Berlin in 2012 and the rest was history. The Edelstoff Design Market gives the public access to up-and-coming young product designers eager to showcase their wares. Quirky, fun and a very different side of Vienna, the Christmas Edition is great for some family shopping.
Christmas Market at Schonbrunn Palace – November 24th, 2018 to January 1st, 2019
No city does the advent market quite like Vienna. Dating back to a tradition from 1298, the city has scores of markets, in every nook and corner. From the gaudy (Christkindlmarkt) to the traditional (Freyung), and the high-class (Stephanzplatz), the different markets offer it all. We prefer the imperial backdrop of the Schonbrunn Palace – the trek is well worth it, with its selection of Austrian handicrafts, gourmet delights, the best gluhwein in town it is a treat for all ages, and it even converts into a New Year market after Christmas.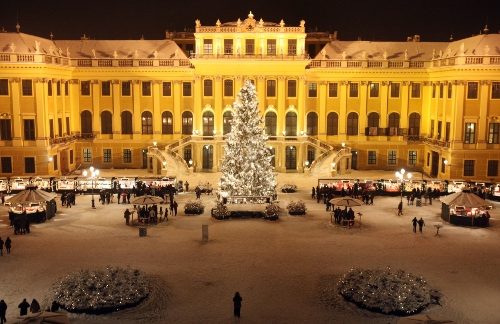 Advent at the Schloss Schonbrunn. Photography by MTSWien
Silvesterpfad – December 31st, 2018
Vienna's typically dignified, culturally superior alternative to Times Square's Ball Drop begins at 2 P.M. on New Year's Eve and goes will into the A.M. The city centre transforms itself into a giant street party, as revellers trace a path from the Rathauzplatz, across the inner city to Prater. Dance and waltz, binge off the various street-food vendors, and marvel at how, singularity of purpose, can bring people from all walks of life across Austria and Europe together for a night.
Article text by Hrishabh Sandilya. All photographs are sourced under a Creative Commons Licence.