A Wintry Budapest Tale
The Danube. Photograph by Budapestvoyage.
Budapest, the magnificent other capital of the Austro-Hungarian Empire is often overlooked in favour of Prague and Vienna. But do that at your own peril. Budapest encapsulates the ideal of a Central European capital like no other city can ever do. Built on opposing banks of the Danube, at the heart of Europe, the city effortlessly represents the various influences that once shaped the empire – Hungarian, Germanic, Slavic, Jewish, Romanian and Balkan. And it is these very influences that make Budapest come alive in the winter
Insight Budapest's Downtown Pest tour affords you the opportunity to familiarise yourself with many of the locations on this list.
Art, Design and Fairs
Only from a Pure Source: Tradition and Abstraction in the Art Of Dezső Korniss at the Hungarian National Gallery – December 19th, 2018 to April 24th, 2019
The Hungarian National Gallery at Buda Castle puts on this magnificent temporary exhibit dedicated to modernist Hungarian great Dezső Korniss. Displaying close to 200 paintings which have been loaned from private collectors and museums across the world, the show looks at Korniss' depiction of tradition and abstraction in his art. Paying special attention to his manifestation of Transylvanian folk motifs, the exhibition is a must, even if you're only remotely interested in art.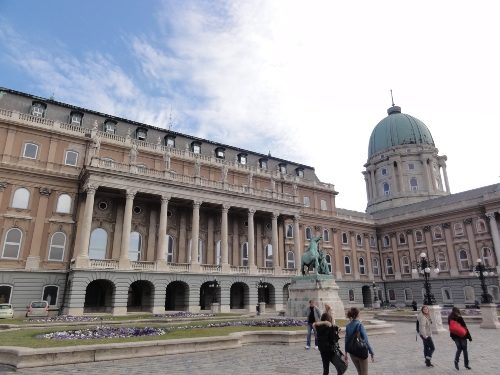 The Hungarian National Gallery. Photograph by ktanaka.
WAMP – Open Sundays in December 2018
WAMP is Budapest at its best. Part design fair and part ultra-chic fashionista and hipster hangout, WAMP is your go to, if you're looking to understand the modern Hungarian design aesthetic. Having transitioned into its winter home at the Millenaris Hall, the fair will be open most Sundays in December. This is your opportunity to support some up-and-coming young designers and perhaps, land a future masterpiece or two.
GOUBA – Open Sundays from 10 A.M. to 7 P.M
Another design market, GOzsdU BAzaar, is WAMP's alter ego. Lacking the pretence of modernity, GOUBA is all about artisanal, handcrafted curios, paintings, jewellery, clothes, and even food. Set in the enchanting Gozsdu Courtyard, in the heart of Pest's reinvigorated Jewish Quarter, the self-styled "Portobello of Budapest", runs a special festive market all December. Look for further dates in February and March, on their website.
Insight Budapest's upcoming Design Tour will stop at some of these incredible destinations and comes highly recommended if you have a roving aesthetic eye.
Entertainment & Shopping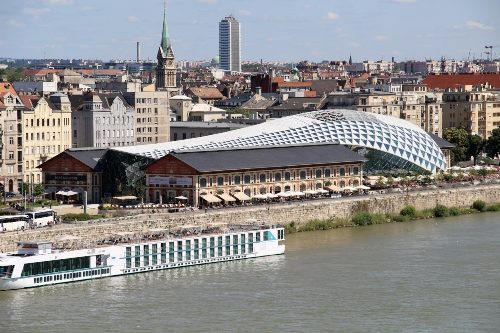 The Whale from Gellert Hill. Photograph by Fred Romero
Balna Budapest – Open daily from 10 A.M. to 8 P.M.
The controversial and colossal Balna opened in 2013, on the banks of the Danube, near Szabadság Bridge. All glass and metal, in the shape of a whale, it is a modern architectural marvel, but as you will see, doesn't quite fit in with its surroundings. Part cultural destination, part new age market and part not quite anything, it hosts the New Budapest Gallery (of modern Hungarian art) and the Budapest Anno (a fun vintage store and market) amongst others and is well worth a visit. For the winter it even has a free skating rink for kids and an outdoor Advent market.
The Ecseri Flea Market (Ecseri Bolhapiac) – Open daily from 9 A.M.
Arguably Europe's largest collection of junk available 365 days of the year, the Ecseri flea market is a fair amount of work. It's a hike to get there (about an hour on the bus from the city centre), and you have to work hard to find your rewards – there's a lot of junk to sift through. But you will be rewarded, whether its old communist propaganda, art, medical devices, clothes or whatever else you're after.
Food and Drink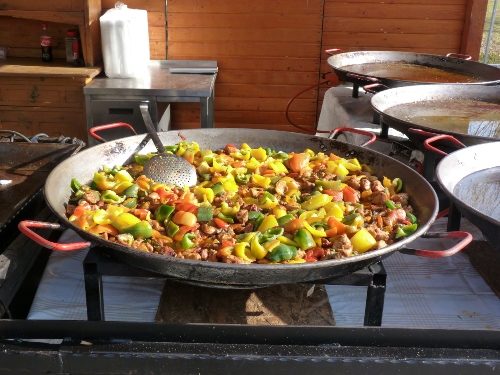 The Mangalica Festival. Photography by Derzsi Elekes Ando
The Mangalica Festival – February 8th to 10th, 2019
No other capital city in the world boasts a festival dedicated to a pig, or at least the Mangalica pig. Part of Hungary's cultural heritage, the woolly pig plays a key role in the country's gastronomy and the festival gives visitors an opportunity to sample the pig in various shapes, sizes, forms and flavours. Cured, cooked, smoked, fried, baked and accompanied by copious amounts of Tokaj wine, pigs do fly here.
Szatyor Bár és Galéria – Open daily from 12 P.M. to 1 A.M.
Ruin bars have become so synonymous with Budapest that some enterprising restaurateurs were even buying functioning buildings and "ruining" them for that look and feel. Our pick for you is Szatyor, which unlike the scores of others in Pest, is on the Buda side of the river. A tad more upscale, with a crowd that is a tad more refined than your average ruin visitor, Szatyor has a global menu and Hungarian craft beers on tap. Built in to the back of the legendary Hadik cafe, the combination is hard to beat.
Family Fun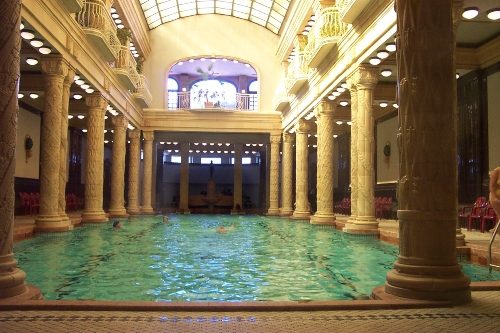 The Gellert Spa. Photograph by Toadberry
A Winter Visit to the Gellert Bath and Spa – Open 6 A.M. to 10 P.M. everyday
Part of the famous Hotel Gellert complex in Buda, the cavernous Gellert bath complex is worth a visit alone, for its stunning Art Nouveau architecture. But when some locals swear that the healing powers of its waters are enhanced in winter temperatures (the water in the outdoor pool stays around 35 * C) how can you not take a dip? Treat yourself to a massage at the spa and some excellent coffee and cake at the Hotel's brasserie when you're done healing.
Városligeti Műjégpálya (The City Park Ice Rink) – Open daily from 9 A.M. to 1 P.M. and 5 P.M. to 9 P.M. till the end of February 2019
Europe's largest outdoor ice rink is located in the City Park between Heroes' Square and the Vajdahunyad Castle. It is hard to think of a more stunning backdrop to practice your toe loops, flips and the occasional Lutz. With skating lessons on offer, you have no excuse to not get on the ice and given its gargantuan size – you'll never have to wait in line either. Fun for all ages!
Christmas and New Year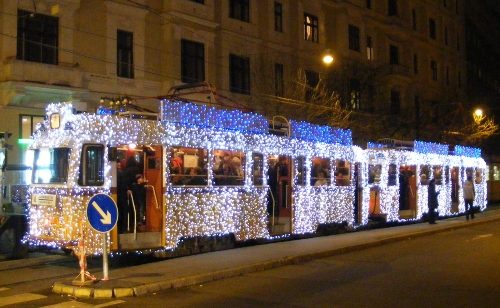 A Christmas Tram in Budapest. Photograph by John W. Schulze
Christmas Market at Obuda – December 2018
Although Budapest focuses its energy on the two big Advent markets at Vorosmarty Square and around St. Stephen's Basilica in the heart of Pest, we prefer the one at Obuda in Old Buda, the city's third district. Local, authentic and affordable with the best Langos in town, it is definitely worth the trek to avoid the throngs in the city centre. Handicrafts from the numerous artisanal stores at the market also make the perfect Christmas gifts and souvenirs.
Christmas Tram Ride – Sundays, Mondays and Tuesdays in December 2018
Thomas the Tank Engine meets Santa Claus on Budapest's transport network in this unique Christmas tradition, as Tram Number 2 is decked up in festive livery. The line runs along the Danube between Közvágóhíd and Jászai Mari tér, and when the National Geographic calls it "Europe's most scenic tram journey," it's hard to want to give it a miss. Great for all ages, it can get impossibly packed, so try and pick an hour to ride, that most others won't.
A New Year's Eve Boat Party on the Danube – December 31st, 2018
We can't think of a better way to bring in the New Year than an exquisite multi-course meal, on the top deck of one of the many fin-de-siècle barges that cruise the Danube. Affording an incredible view of Buda Castle, the city's numerous lit-up bridges and a fireworks display at midnight, this does involve drinking a fair amount of champagne and local Hungarian palinka, so come prepared. Ask your hotel concierge for recommendations.
Article text by Hrishabh Sandilya. All photographs sourced under a Creative Commons License.