A Guide to Prague's Best Winter Activities and Events 2021/2022
Christmas in Prague, photo Margot Buff
The return of festive outdoor Christmas Markets to all of Prague's major squares (November 26, 2021-January 6, 2022) is the most cheerful sign that life is becoming more normal again in the Czech capital. Visitors and residents can once again make merry among lighted wooden stalls with vendors selling Christmas ornaments, gifts, jewelry, local crafts, mulled wine (svařák) and hot honey wine (Medovina).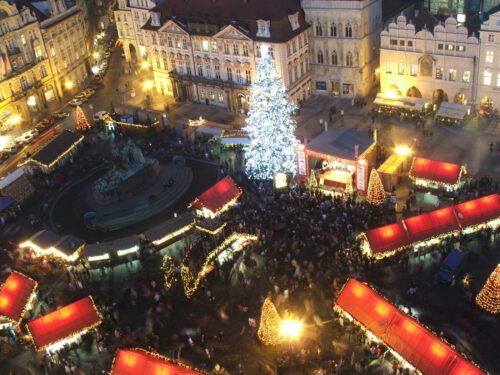 Prague Winter Market, Photo Hynek Moravec
For those ready to dive into the heavier street food of Central European Christmas Markets, roasted sausages and roasted ham delivered right from the spit may be a delightful choice, while visitors with a sweet tooth can count on booths serving up hot palačinky (pancakes) or brilliantly decorated perníčky (gingerbread).
The giant Christmas tree and entertainment program of Old Town Square's Christmas Market make it a predictable seasonal favorite for us but we also love pilgrimages to the more intimate markets at Prague Castle and Namesti Miru. Gift stalls are open until 10:00 PM and refreshment stands stay open even later, up until midnight.
Touring Prague in Winter 2021/22
Insight Cities' Prague: An Introduction Tour makes the perfect Christmas gift for a loved one visiting the city or the perfect Christmas gift for yourself. The three hour Prague walking tour introduces key monuments and familiarizes you with Prague's 1000 years at the center of European history, while stopping at several Christmas Markets along the way. But even those who cannot hop on a plane this year don't need to be left behind! Our Live-Stream tour of Prague's beautiful Christmas Markets on Old Town Square makes a unique holiday experience possible for you even from your couch and you can take everyone who you know near and far with you (we take up to 99 devices). Our live steam tours also make amazing gifts. We finish by live streaming a glorious stroll over the Charles Bridge with river views of Prague's illuminated Castle.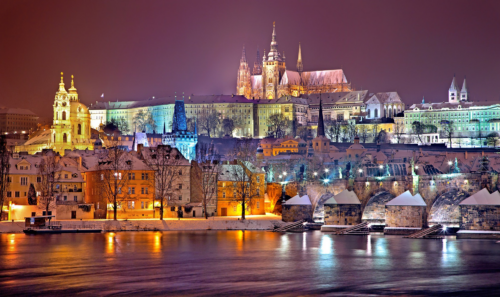 Mikulas (Feast of St Nicholas) on the Old Town Square – December 5th, 2021
Spend your evening on the Old Town Square watching the uniquely Czech tradition of Mikulas (St. Nicholas), as locals dress up as angels, devils and saints and punish and reward young children for their sins and good behaviour over the year. The children have to recite a poem and are usually rewarded for their good behaviour with Christmas candy and cookies by Mikulas and the angels. But, occasionally, if the kids aren't prepared to recite or sing, they are rewarded by the devil with a lump of coal!
Ice Skating – December 2021 to March 2022
Nothing quite says a Prague winter as the ice rinks that quite literally pop-up all over the city. Like any good old socialist tradition, the use of the rink itself is free. You pay to rent skates, if you don't have your own. Open from 10 A.M. to 10 P.M. Our advice is to skip weekends and evenings, and make the rink your very own when all the local kids are at school. Try the rink behind the Old Town Square at Ovocny Trh if you want to skate on a historic Prague square, or head to the larger rink at Letna Park, if you take your skating as seriously as most Czechs.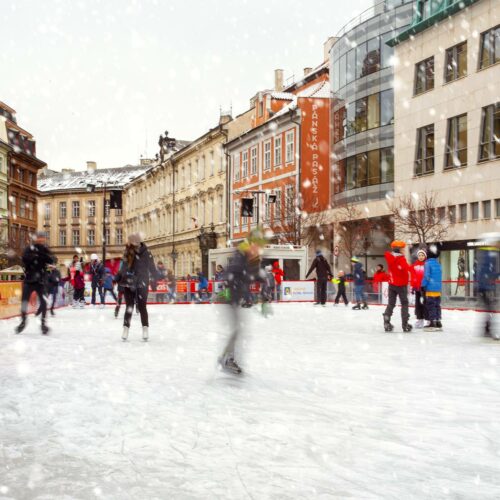 Ice Skating in Prague Old Town at Ovocný trh
The Lamplighter of the Charles Bridge, December 1-23
A beautiful Prague tradition is the 4:00PM – 4:15PM lighting of Prague's gas lamps (starting on the Old Town side) by a lamplighter dressed in 19th-century garb. Not only is the 660+ year old bridge the only remaining one in the world to be illuminated by gas lamps, the lighter is a local personage, Jan Žákovec, selected not only for his unusual height but because he really is the head of Prague's Gas Museum, and always happy to speak with natives and visitors about the history of the gas lamps!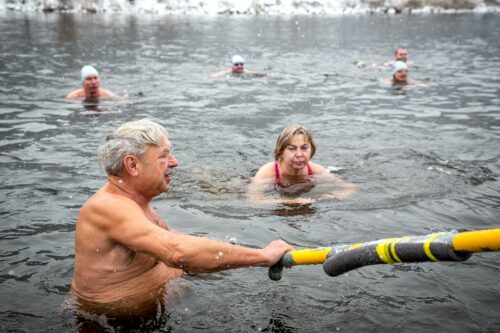 Boxing Day Swimmers, Photo by Margot Buff
Boxing Day Swimmers – December 26, 11:00 AM
After enjoying your Christmas, It's good fun to wander down to our National Theater on Boxing Day at 11:00 AM between Slavonic Island and Střelecký Island to see the hardiest of Czechs plunge into the freezing waters of the Vltava for their annual swim. Unbelievably, this tradition has been in existence since 1923 and is still going strong.
New Year's Eve Celebrations – December 31st, 2021
While private fireworks are still abundant on New Year's eve and best viewed from above (think Letna Park), the major Fireworks event hosted by the city over the Vltava river has been cancelled for a few years running out of a new concern for the impact on animals and the environment. But Prague's District 2 has been hosting a lavish firework display on New Year's Day and we've also had wonderful video-mapping shows on the National Museum. At the time of posting this blog, there is still no firm official news regarding these events but we'll update as soon as there is more information. Meantime, we suggest a New Year's Eve cruise on Prague's Jazz Boat with authentic local musicians or — if you want to go for the full-out extravagant Prague event — book an unforgettable State Opera's New Year s Eve Gala Concert & Banquet. You will dine, dance on the stage and be treated to stunning arias to bring in the new year.
Art – Opera – Music
IMUCHA – EXHIBITION, until New Year's Eve 2021
Happily you still have until December 31, 2021 to catch this wonderful digitized exhibition of the most famous posters designed by the legendary Czech master of art nouveau, Alfons Mucha. Mucha's best-known designs and characters are delightfully set into motion. Mucha himself speak to his visitors from his animated self-portrait! Open from 10:00 AM – 7:00 PM. Tickets are available on the spot at Prague's most grand art nouveau palace, Municipal House. We recommend enjoying cake and coffees in the Municipal House cafe (with its dazzling play of art nouveau lighting fixtures) before or after catching the show.
Famous Czech Composers – November 3, 2021 – June 30, 2022
This multimedia National Museum exhibit brings us close to the lives of four of the greatest Czech composers through selections of their music. We can hear sound details of Smetana's Vltava, Dvořák's Symphony No. 9 "From the New World", Janáček's Sinfonietta and Bohuslav Martinů's Double Concerto for Two String Orchestras, Piano and Timpani. We can see objects associated with these artists and different scenarios for the staging of their work. This is not to be missed by music lovers. The exhibit also gives travelers a chance to visit the beautiful renovated and historic National Museum building at its regal position at the top of Wenceslas Square.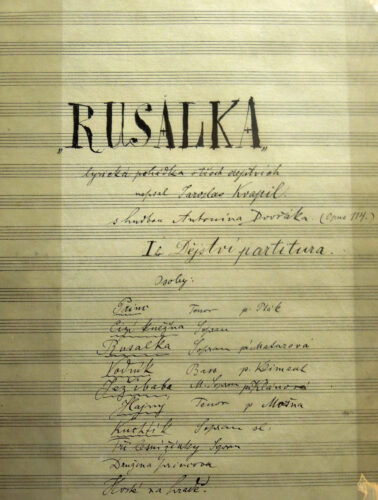 Antonín Dvořák – Rusalka, autograph score, fragment, Prague, 1900, Photo by Ablakok
Rusalka at the National Theater – December 20 & 30, January 14 & February 2, 7PM
The forbidden love between a Czech water nymph and a prince is reminiscent of Undine and The Little Mermaid beautifully staged with water, fire, dramatic conflict and redemption. Attending a performance also gives a visitor the chance to admire the grand National Theater, built in the late 1800s.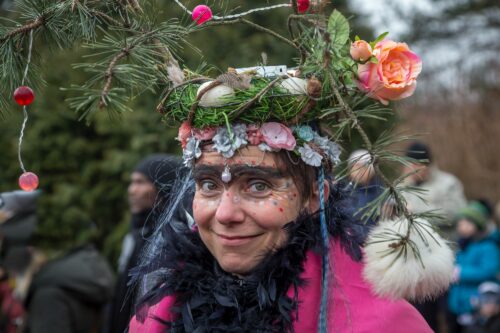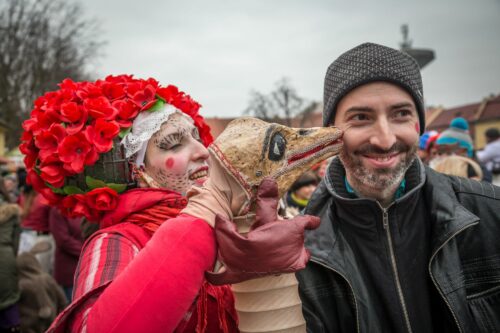 Masopust, photos Margot Buff
Masopust, January 7 – March 1
Masopust is the Czech carnival tradition where masked and costumed revelers parade through the city squares celebrating the return of spring. It's a moveable feast, meaning that It's your chance to literally dance in the streets with the locals. Traditionally, Masopust (which means Meat Fast in old Czech) is your last chance to feast before the fasting season of Lent (the 40 days before Easter). Specific Masopust celebrations in Prague's Zizkov and Karlin districts have yet to be scheduled but carnival seasons lasts from Friday, January 7, 2022 – Tuesday, March 1, 2022 and we'll post a schedule for these vivid, unique celebratory street parties as soon as the specific dates are publicized.