Vienna's Summer and Fall Events Bring the City to Life
Vienna needs no introduction when it comes to culture and class, which is demonstrated by the quality and array of events the city gives us. This summer and fall, the already welcoming city's streets and squares, chateaus and castles, churches and museums will open up, teeming with intriguing events and exhibitions that will draw connoisseurs of all types to the city.
Art Exhibitions
Egon Schiele: The Anniversary Show at the Leopold Museum
February 23 – November 4, 2018
A special exhibition paying homage to his death 100 years ago, displaying the most important works from his oeuvre. Some "noble guests" from international collections will be integrated into the anniversary exhibition, further expanding the Leopold Museum's already extensive collection.
Gustav Klimt at the Leopold Museum – June 22 – November 4, 2018
Presented concurrently with Egon Schiele, Gustav Klimt, who also died in 1918 will be honored at the Leopold Museum with a very thorough exhibition. The two exhibitions together showcase some of the best of Viennese Modernism from the masters who helped found the aesthetic and philosophical art movement. The museum's collection will be supplemented by private collections, including from the Leopold family and a Klimt descendant, among others.
Concerts
Mozart's Requiem at the Karlskirche – Various dates between March 17, 2018 – January 5, 2019
Composed in the last weeks of his life, and left unfinished, Mozart's gripping piece 'Requiem' will be brought to life by over 40 musicians. The lavishly Baroque St. Charles' Church and Orchestra 1756, using original 18th century instruments, together create a beautiful setting that helps convey the range of emotion in this splendid piece.
Holy Mass with Vienna Boys' Choir – Every Sunday until June 24th,2018
The Vienna Boys' Choir is regularly performing Mozart for the Holy Mass. Every Sunday until July, they will travel to a few different venues, and sing a different mass each time, occasionally joined by guest performers, including the Bratislava Boys' Choir for a special Mother's Day Concert. More information of the venues and individual programmes can be found in the link provided.
Waltzing In The Clouds – Saturday, July 14th
Few things could improve an open-air operetta in a landscaped garden, the addition of a the stunning Grafenegg Castle is one of those things. A showcase of historicism architecture, the castle seamlessly glides from gothic to baroque and revivalist styles, meanwhile their gardens host us for a night with the Tonkunstler Orchestra, led by Lawrence Foster, with soprano Daniela Fally. This should be an exhilarating night, in a beautiful ambiance, in a fantastic wine region.
Events
Neustifter Kirtag – August 17-20, 2018
Located on Vienna's rustic rim, the Neustift am Walde village is known for its exceptional annual wine festival. With vines occupying a quarter of the village's territory since the 1800's, there could hardly be a better setting for experiencing traditional Austrian garb, excellent music and locally produced food and wine.
Summerstage – May 2 – mid-September, 2018 – Monday-Saturday 5pm-1am, Sundays 3pm-1am
The Summerstage is an open air paradise for lovers of wine, food, art, music and more. This riverside oasis boasts a wide variety of cuisines, making it a great
 place to order a bit of food and a glass of local wine, relax and have a nice evening next to the Danube.
Rathausplatz Music Film Festival – June 30 – September 2, 2018
A twist on your typical film festival, the Rathausplatz (the large square in front of the city hall) transforms into a musical and culinary adventure in high culture, of course with film screenings, too. This event bring together big names, top productions and 26 top restaurateurs for a month-long, unique and open festival.
Marionette Theater at Schönbrunn Palace – various dates throughout the entire year
The already beautiful Schönbrunn Palace comes to life with extraordinary marionette shows. Performances, tailored for children and adults alike, include Mozart's Magic Flute, Hansel and Gretel, Aladdin and the Magic Lamp, Ritter Kamenbert and an opera lead by Mozart himself, and more. Follow the link for detailed information on the programme and enjoy a night your family won't forget.
Sept 22nd – Oct 13th
viennacontemporary – September 22-27 – Austria's International Art Fair
An exceedingly great contemporary art exhibition, viennacontemporary highlights Central and Eastern Europe, bringing new and established artists together with outstanding galleries, discussions with art experts, special presentations and guided tours. This art fair has become an acclaimed event in the contemporary art world.
MuseumsQuartier Vienna Fashion Week – September 10-16, 2018
Already world renowned for its culture, Vienna steps into fashion. The Vienna Fashion Week displays a confluence of local and international designers with fashion shows and exhibitions. Daily catwalks present the latest in fashion, whilst side events and pop-up shops allow us further into the world of fashion from Vienna and beyond.
Vienna Design Week – September 28th – October 7th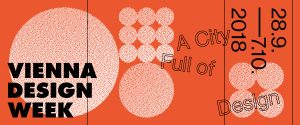 Existing in a city already shaped around design and aesthetics, Vienna Design Week brings a new opportunity to view how design and aesthetics are integrated into our culture, and why they matter in daily life. Vienna Design Weeks acts as a platform for design in all forms, from music, art, fashion and architecture to social design and city planning.
Wiener Wiesnfest – September 27th – October 14th, 2018
Austria's nine diverse regions will showcase their customs and traditions in Vienna's very own Oktoberfest. Dirndl and lederhosen play a supporting role in the traditional music and crafts of the country, which are featured alongside a daily changing theme of regional beers, cuisine and lots of fun.