During the 1100 years that Prague Castle has presided over Prague from atop Hradčany Hill, it has been the seat of Bohemian Kings, Holy Roman Emperors, and the Hapsburgs' Regents (including those famously tossed from its windows by enraged Hussites). The largest castle complex in the world, it has imparted prestige not only on the presidents of the first Czechoslovak Republic but also, more ominously, on the Nazi Reichsprotektors and to the Communist Party chairmen of the Czechoslovak Socialist Republic. During the Velvet Revolution of 1989, demonstrators filled Prague's streets with the chant "Havel na Hrad!" ("Vaclav Havel to the Castle!"), a call to reclaim the traditional home of Czech leadership for a new era of democratic governance.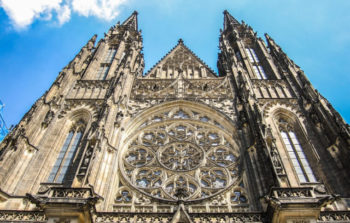 Constructed and reconstructed in every architectural style, incorporating Romanesque, Gothic, Baroque, Rococo, Renaissance, and Neoclassical monuments, the Castle buildings have also been bombarded by artillery, plundered by marauding armies, and left to deteriorate by indifferent Austrian Emperors. During phases of feverish reconstruction, the Castle's older structures were renovated according to newer architectural sensibilities, resulting in anachronistic combinations such as the 12th-century St. George Basilica, which rears its austere original Romanesque towers over an elaborate 17th-century Baroque façade.
At the height of its prominence in the 16th-century, Prague Castle was transformed into a cultural center by the eccentric Holy Roman Emperor Rudolph II, who amassed the largest collection of fine art in Europe and attracted the leading scientists of the day, Tycho Brahe and Johannes Kepler to his court (along with assorted frauds and alchemists).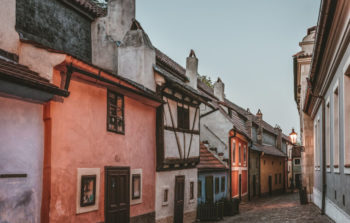 Highlights of this Prague Castle walking tour include the aforementioned sites as well as a detailed visit to the glorious St. Vitus Cathedral, founded by Holy Roman Emperor Charles IV and full of treasures, including its be-gemmed Saint Wenceslas Chapel and the art nouveau window by Alphonse Mucha. Children will enjoy our stroll through the Golden Lane, where small shops served the Castle in eras past. We take in the Vladislav Hall, which was built to host indoor jousting tournaments. Since 1995, parts of the Castle have been brilliantly illuminated by lighting paid for by The Rolling Stones as a gift to their friend and former President of Czechoslovakia, Vaclav Havel!
If you are visiting April-October, we'll take in the Royal Garden, the first formal garden in all of Central Europe, strolling by the Singing Fountain cast in bell bronze, the 500-year-old greenhouses, and the Renaissance Ball Game Hall where tennis was played by sporty aristocrats.